This article is about a group, project, or location which also exists outside the The Last Ship universe.
Its portrayal in the show may differ significantly from its Real World counterpart.
Norfolk Naval Base
is a
United States Navy
base in Norfolk, Virginia.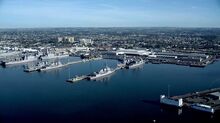 Events of The Last ShipEdit
Norfolk Naval Base is the USS Nathan James's homeport. The Nathan James was deployed from Norfolk to the Arctic Circle for a supposed training mission. In reality, Dr. Rachel Scott was sent to the Arctic Circle to find the primordial strand of the Red Flu virus.  Norfolk has a lab facility that was part of the network of secret labs meant to manufacture and distribute the cure. When the staff at Norfolk became concerned about the facility safety they packed up the lab on the USNS Solace and sailed to sea. The base's remaining naval personnel were able to hold the facility throughout the red flu pandemic.
Eventually, the USS Nathan James returned to the base and they brought the cure to the virus. The crew of the Nathan James inoculated the facility personnel as well as citizens of Norfolk. The base was as a launching point to send the cure to all secret labs. Norfolk continues to be one of the few active U.S. Navy facilities.
See Also
Edit