Lucia Katerina Vellek is the oldest child and only daughter of Paul Vellek who lives in Greece.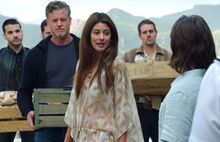 Lucia is first seen when Tom Chandler arrives at Georgio's Villa. Chandler seems to instantly take to her, shadowing her every move when he is not fighting, as he immediately notices the chain around her neck upon their first meeting.
Later on, after Chandler wins the fight, Lucia invites him to her room where they end up spending the night together.
During the Nathan James attack on her father's ship, Lucia ambushed Tom Chandler and attempted to kill him. However, she was shot dead by Sasha Cooper.
Ad blocker interference detected!
Wikia is a free-to-use site that makes money from advertising. We have a modified experience for viewers using ad blockers

Wikia is not accessible if you've made further modifications. Remove the custom ad blocker rule(s) and the page will load as expected.